Peter Renshaw

The Australian Educational Researcher (2021) 48:1–21

Abstract
In this written version of the 2019 Radford Lecture, I address the challenges of teaching and learning about ourselves and others—human and more-than-human others—at this moment of global precarity. In Part 1, I analyse emotions in the Anthropocene through the lens of carnivalesque placestories. I conclude that we need to shift to a relational ontology and aesthetic sensibility based on kinship with the more-than-human. Part 2 explores pedagogies of love and enchantment and presents specific cases suggesting that children can shift to a relational ontology and aesthetic sensibility based on kinship. Part 3 takes up the troubles inherent in our current education system related to quiet citizenship. It asks how teachers might engage with students as activists on issues that matter to them in these precarious times.
Keywords: Anthropocene · Activism · Pedagogies of love and enchantment
Preamble
This paper was presented as the Radford Lecture in 2019, a year of grief and loss as fires consumed vast swathes of Australia's forests, and urgent action on reducing carbon emissions was again delayed by the "dithering" (Hornborg 2017) of political leaders even in the face of global climate protests led by high school students. Personally, it was an emotionally poignant year as I reflected on my generation's legacy and witnessed the activism of young students whose voices were raised to hold us to account. I participated in the March and September climate protests with the students and these experiences became central to the Radford Lecture. It was also a year of intensive research with Dr Ron Tooth and his colleagues at Pullenvale Environmental Education Centre (PEEC).Footnote1 We focussed on capturing children's emotional engagement with the "more-than-human" (Abram 1997) and we recorded numerous instances of enchantment and fascination. Just prior to the Radford Lecture I asked Reshma and Lucie, Year 4 students at a local State School, to present an account of their enchantment. Their presentation, reproduced in Part 2, was a highlight of the Radford and prompted Debra Hayes (President of AARE) to wonder when we might see them back presenting their research at future conferences.
Part 1: Placestories in the Anthropocene
Doreen Massey's (2005) notion of place as unfolding stories was central to adopting the term placestories as the anchoring concept for this paper. Placestories foreground the materiality of place, its "grounded physical reality" (Somerville 2010, p. 330), along with the agency of human and more-than-human entities (Abram 1997) and the entangled stories that they have co-authored in place over time (Massey 2005; Tuan 1979). Massey (2005, p. 9) wrote that place is "a simultaneity of stories so far". This phrase captures the relational and open-ended nature of place per se, and the sense that any place has many possible stories—some celebrated and retold, some hidden or repressed, some repurposed and most importantly, emerging placestories that are being co-authored in the present. Figure 1 presents one recent placestory to contemplate. Thinking with Bakhtin, we can reflect on the multiple entangled authors of the event on the beach, acknowledge our answerability for this unfolding placestory, and remember that there are no alibis (Bakhtin 1993) in the process of becoming-with—we are participants and co-responsible in some measure for the placestories of our time.
Some thoughts on the scene in Fig. 1. What's the black stuff strewn along the beach into the distance? Not seaweed. Not oil. Yes, ashes. They seem out of place. How did the ashes get here? What are the man and dog thinking and feeling as they encounter this unusual substance on the beach? What might the dog smell in the ashes? Perhaps the remains of other animals consumed by the fires that ravaged vast areas of Australia in 2019. There is melancholy and loss in the ashes, materially present in the remains of the living creatures and the complex ecological systems that had sustained them—reduced to ashes. As Massey (2005) noted, every place is interconnected to other places—the ashes on the beach are a poignant testament to this. This beach is being continuously remade in interaction with other places, in this case in interaction with the fires that had consumed the nearby forests. The fires were so intense and destroyed so much of Australia's forests that the resultant ash and smoke eventually circled the Earth (Keane 2020, January 13). The grief does not end here on this beach. It is mirrored in other catastrophic fires that occurred during 2019 in the Amazon, in California, in Siberia, in Indonesia, and in Lebanon. Pyne (2015) coined the term Pyrocene to describe the current state of the Earth on fire.
In addition to the interconnection of each place to other places, Massey (2005) notes that our encounters in the present are interconnected across time. Consider the Indigenous peoples who walked on this beach for 60,000 years and left traces of their everyday lives in the middens that can be found in the dunes beyond the beach. Consider the journey of the grains of sand through deep time and the multiple times each grain might have been part of a coral or other living entity. But here they are right now on this beach in between the paws and toes of these local residents entering into a new relationship. We are in constant motion with place, dancing place, place is dancing us, creating the placestories of our becoming—"becoming-with" and "entangled" rather than becoming an individual (Haraway 2016). Where is this mutual spinning taking us?
What sense will future generations make of the placestories we are spinning now? In Fig. 2, a young student stands with her sign at the Climate Strike on the Gold Coast on 15 March 2019. The activism of students has heightened awareness across the globe of the urgency to act now, to interrupt the placestories being spun by burning fossil fuels to feed consumer culture, thereby increasing temperatures on the land and in the sea, and accelerating extinction of species primarily due to habitat loss. Her sign tells exactly where we are and where are we going in terms of global warming. She has named the future in terms of loss, death and catastrophe (see also Charlson 2019), and she seeks an alternative. She seems to know that some placestories maintain hegemonic relationships that preserve the interests of those in power. In this case, she is calling out our government and its local representative, whose office is in the building behind her, regarding their failure to adequately address climate change and carbon emissions. She is advocating a different placestory where governments are made to feel uncomfortable when their policies are revealed to have catastrophic local and global consequences. She seems to know and feel something crucial. She is asking, whose interests are being served by the placestories that are forming the Anthropocene?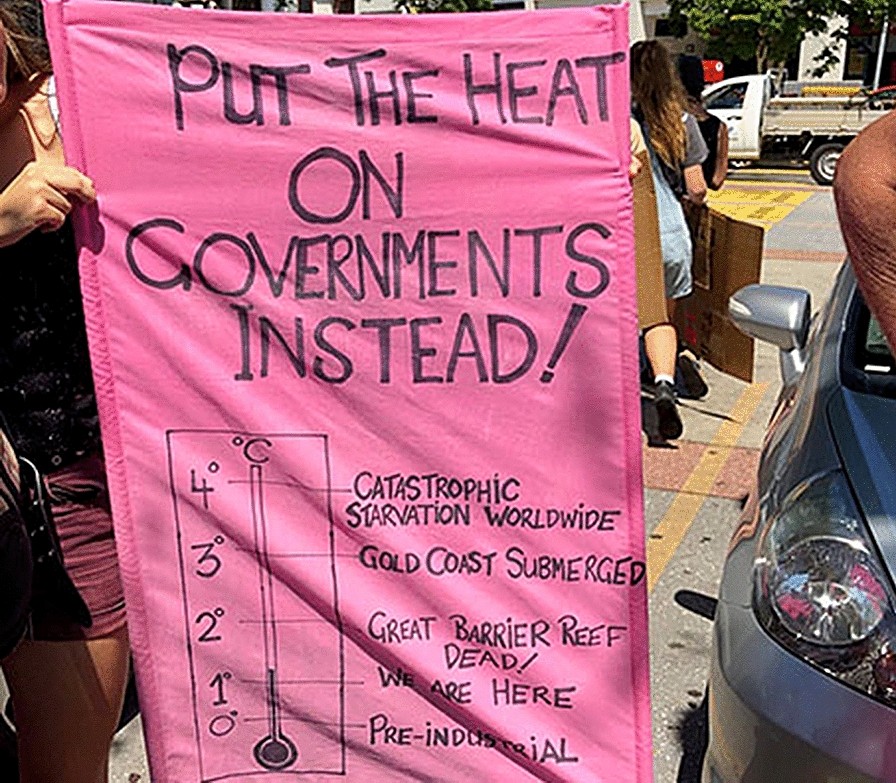 The Anthropocene is "the not-yet of time" (Somerville 2018, p. 265) signalled by humanity's dramatic on-going impact on planetary systems that has accelerated species extinctions across the globe and threatened the survival of humanity itself. Although Crutzen and Stoermer (2000) are credited with first using the term, Anthropocene, Steffen et al. (2011) provide a detailed account of the emergence of the idea of the Anthropocene across the twentieth century. It was Crutzen and Stoermer's (2000) article, however, that provided the impetus for scholars from the humanities and social sciences to begin critiquing the concept of the Anthropocene and revealing its roots in the economics of capitalism (Moore 2017, 2018), in the colonial dispossession of the lands of First Nations peoples across the world (Demos 2015), and in the structures and processes of patriarchy (Haraway et al. 2016; Haraway 2015). In the field of educational research, Marie Brennan (2017) provided a critique of teacher education in the Anthropocene, but it has been early childhood scholars, in particular, who have embraced the notion of the Anthropocene (Somerville and Powell 2019a, b) in trying to reimagine the education of children yet to be born, children who will live in an increasingly precarious "world entirely different to the one we know and understand" (Somerville and Powell 2019a, p. 15).
The placestories of the Anthropocene are not inevitable or produced by a generalised human author operating as if from anywhere/nowhere. That is a deterministic take on the Anthropocene. It posits a form of detached and objective authorship of the current epoch designed to deflect responsibility and answerability. The Anthropocene needs to be read, as the young student above is advocating, as a set of accountable placestories. These stories have been authored overwhelmingly by specific groups of men, beginning arguably in the eighteenth century enlightenment—predominantly men from the global north with particular vested interests and ambitions to exploit the resources and peoples of other places in order to accumulate power and wealth. As Donna Haraway (2015) reminds us, the Anthropocene is not a species act of homo sapiens—it is a set of interconnected placestories that emerged from colonialism and patriarchy and capitalism, placestories formed through exploiting "cheap nature and cheap labour" (Moore 2017, 2018) and the forced acquisition of First Nations peoples' land in many parts of the world, including Australia.
Haraway (2016) also speculates about an alternative present and future, the Chthulucene,Footnote2 where placestories are created from a new imaginary, a creative space where there is capacity to make kin in assemblages with strange others that include the more-than-human, other-than-human, and human-as-humus. I know my grand-children enjoy the idea of humans as humus. Like other children they enjoy crossing boundaries and may be more ready than we think, to make kin with other composting beings and the intricacies of this living world (see also Cutter-Mackenzie-Knowles et al. 2019; Somerville and Powell 2019a, b). I return to this kin-making theme in Part 2 of the lecture.
The climate strikes in March and September 2019 were organised and led by high school students in Australia and across the world. One of the student leaders came to The University of Queensland just prior to the September march to address a National Tertiary Education Union forum. She was a Year 10 student from a local State High School. She was articulate and well informed about the science of climate change, she cared about her community and wanted to express her convictions in a public way with other like-minded students and community members. Her talk motivated me to organise a group of staff and students from the School of Education to join the march and carry a banner proclaiming, Educate for Climate Action. The march was a site of solidarity and public pedagogy. It was also calling older generations to account—there's no alibi in our placestories, in the mess we've helped to make. In Brisbane, people in high-rise offices and at public transport hubs stopped to watch and listen. The march was led by Indigenous students and members of their communities who asserted their sovereignty over the land as we walked—we chanted with them—"Always was always will be—Aboriginal land". This reassertion of the Aboriginal placestory of MeanjinFootnote3 felt wonderfully transgressive in the very heart of the CBD. Then—"What do we want? CLIMATE JUSTICE. When do we want it? NOW".
The co-authored placestories of the march produced a carnivalesque space in the Brisbane CBD. As Bell (1994) proposed, in addressing Bakhtin's relevance to environmental issues, carnivalesque events are about turning the tables on those in power and sustaining oneself in public through collaborative action, a form of renewing solidarity and reinvention. It mocks the status quo and offers the opportunity to recreate a new world. Bell writes, "This possible new world is the people's world. Carnival points out the egalitarian oneness of material life, an openness to life that connects us all" (Bell 1994, p. 70). On the climate march in September we experienced aspects of this egalitarian openness and renewal. We took over the streets where cars had recently breathed, exhaled and sped by; we ignored blinking traffic lights and we shouted at and with other; police guarded our passage and chatted with bystanders; it was strange to see some of our more radical colleagues don high-vis vests to act as crowd control wardens—even this visual absurdity added to the liberating carnivalesque tone of the whole march; we very openly expressed our feeling in the public square; we mocked our leaders and paraded their paper-mâché heads to heap scorn; we wanted our shared collective emotions at that moment (anger; disbelief; frustration) to mobilise action from other citizens and put pressure on the government. This was our liberating carnivalesque placestory.
Many students carried signs during the march that expressed their foreboding about the future—see, for example, https://www.abc.net.au/news/2019-09-21/sign-saying-people-are-terrified-about-climate-change-1/11534462?nw=0. The message on the students' sign, "we are terrified", is backed-up by extensive evidence about the effects of climate change summarised in red lettering in the background. The evidence provided the warrant for their terror but it has had little effect on policy, thereby adding to the sense of urgency, because one of the fundamental assumptions of our democracy has been, and continues to be flouted—overwhelming evidence has been denied or ignored in order to maintain the interests of particular groups (mainly the fossil fuel industries—see Brett 2020) and thereby jeopardise the welfare of the planetary systems that sustain life. Not only is evidence flouted, but the Australian parliament has been turned into a festival of denial and inaction on meaningful policy initiatives regarding climate change. They have turned the mockery onto those who want urgent action. As Richard Flanagan wrote (Flanagan 2019, February, 4) "The climate disaster future has arrived while those in power laugh at us….they hold up lumps of coal in front of their throne, and laugh and laugh and gloat, won't hurt you, won't hurt you". Flanagan is referencing that incredible moment in February 2017 when Scott Morrison (then the Treasurer of Australia) brought a lump of coal into the House of Representatives. Photos of the event captured a chortling Barnaby Joyce admiring the coal as other Ministers in the Government laughed along with Morrison's mocking pantomime. They are having fun—mocking citizens who want action.
We are caught between conflicting emotions as expressed so powerfully by Richard Flanagan in the following line, "Laugh and laugh as the ash falls soft as silent despair" (Flanagan 2019, February, 4). That poetic line could be the caption for this image of the kookaburra perched on a burnt branch. What is the kookaburra experiencing as it surveys the burnt landscape? What does the image evoke for us? Perhaps the lines from the children's song, "Laugh kookaburra laugh, gay your life must be".Footnote4 Our emotions in the Anthropocene hover in this tragic-comic zone of laughter and despair. Lesley Head (2016, p. 187) notes that grief and other distressing emotions such fear, anxiety, trauma, will be our companions in the Anthropocene. Political leaders seek to re-assure anxious citizens of all ages that they are managing climate change through balanced policies, smart technologies and innovation thereby ensuring a positive future. This message was conveyed by Prime Minister Morrison at the time of the September 2019 climate march when he responded to Greta Thunberg's speech to the United Nations. He regretted the "needless anxiety" that Greta's speech conveyed. He wanted to re-assure children about their future living in "a wonderful country and pristine environment" (Murphy 2019, September 25). The pristine environment of Morrison's imaginary future is an absurdity when juxtaposed with the actual environment surveyed by the kookaburra in Fig. 3, a landscape transformed by drought and fire. How did the young marchers respond to these words of reassurance? A common sign seen during the climate marches in 2019 had an IKEA logo with the words, "I've seen smarter cabinets in IKEA". Groups of smiling and laughing students were photographed with this sign mocking the empty reassurances of political leaders (https://www.abc.net.au/news/2019-03-16/student-rally-against-climate-change-transform-youth-role/10903890). When politicians are absurd, when we are terrified, when the evidence is overwhelming, when policies are lacking, we've no option—we have to laugh. There is hope in this laughter because it unmasks the delusional utopian placestories of those in power. But laughter is temporary and the challenges remain. What must be done? How can we face the future with hope, not empty hopefulness that things will work out, but with an informed and practical hope based on transforming our ways of understanding and being in the present?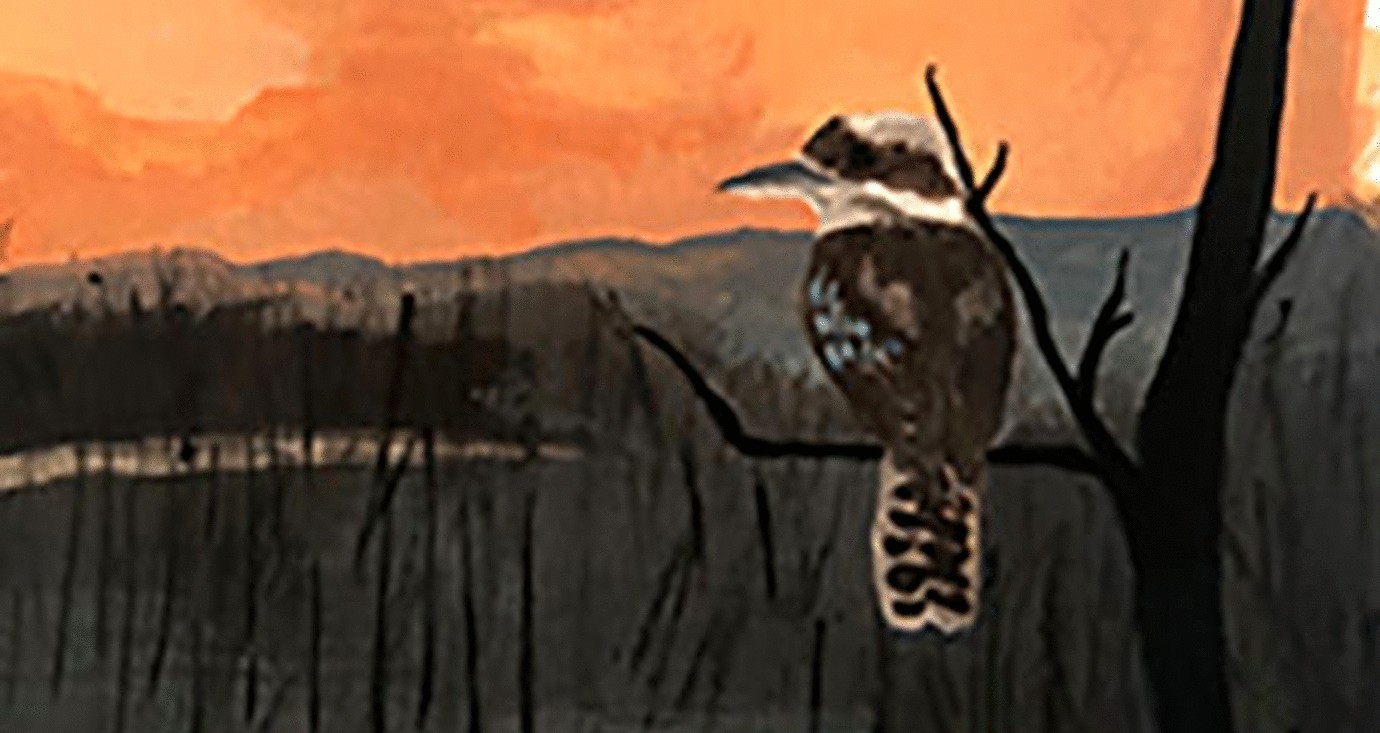 We need to change. The complex challenges of addressing climate change ("a wicked problem", Rittel and Webber 1973) are not going away so as educators and researchers we have a clear responsibility to re-think our theories and our practices and critically re-examine the assumptions that have produced the placestories of the Anthropocene. At a theoretical level we are challenged to decentre from the humanist assumptions that have positioned humans at the "centre" and assigned value to other living entities and materials based solely on their relevance to a narrow understanding of human well-being (Davies and Renshaw 2019). Along with decentring from the humanist perspective we need to embrace a relational ontology, or as Head (2016) has suggested, "we need theories that enable a deep understanding of the many ways we are embedded—materially, ontologically, historically, biogeochemically—in the processes of the earth…" (pp. 190–191).
If we listen to the Indigenous peoples of this land, to their placestories, we might begin to relate in/with place in new ways. There are gifts in their placestories if we are willing to listen. There is the practical gift of knowing how to live sustainably, as described recently by Bruce Pascoe (Dark Emu, 2018) and Bill Gammage (The Biggest Estate on Earth, 2011). They reveal the everyday practices of Aboriginal peoples that shaped the landscape and enabled them to live sustainably. There is so much to learn there—and until recently these stories were deliberately written out of our history (Pascoe 2018). There is also the gift offered by Aboriginal story-tellers and poets such as Bill Neidjie, who provide insight about how to relate differently to place—with an aesthetic based on feeling and kinship. Neidjie et al. (1985, p. 51) writes,
I feel it with my body,
with my blood.
Feeling all these trees,
all this country.
When this wind blow you can feel it.
Same for country….
You feel it.
You can look,
but feeling….
that make you.
Likewise, Miriam-Rose Ungunmerr-Baumann, from the Daly River in the Northern Territory, shares the practice of dadirri with non-Indigenous Australians (Ungunmerr-Baumann 1988, 2002). She speaks of deep listening and quiet, still awareness as the way to relate to country. It is this worldview, relational ontology, sustainable practices and aesthetic sensibilities that could provide a way forward to co-authoring placestories that will sustain us—human and more-than-human entities—as we face-up to the complex challenges of our becoming, that is, "our becoming-with" as Haraway proposes in writing about a future "of multispecies flourishing on earth" (Haraway 2016, p. 40).
Part 2: Pedagogies of love and enchantment
How might we educate children to inhabit the Anthropocene with an open sensibility to the systems that sustain life on Earth. How might we shift from a process of knowing based on categorising and subduing "nature" to a process of knowing based on caring for, and appreciating the beauty and complexity of the more-than-human. In this second part of the paper, I address these questions by proposing pedagogies of love and enchantment. To clarify the meaning of these emotive words I provide a brief description of the theoretical grounding of pedagogies of love and enchantment, and then explore specific examples by elaborating how the teachers at Pullenvale Environmental Education Centre have engaged children in an excursion to Karawatha Forest Reserve.
The notion of "love" deployed here draws on the framework of love, care and solidarity proposed by Kathleen Lynch (2007) to theorise affective justice and especially the labour of women. Lynch (2007, 2009) focussed on affective justice in human–human relationships rather than considering relationships with the more-than-human world. Nonetheless, her notion of humans as "relational beings within a matrix of social and emotional relations that give meaning and purpose to life" (Lynch and Baker 2009, p. 227) resonates with the ontological stance proposed in Part 1 of the paper. I have begun to consider affective justice in relation to the more-than-human world (Renshaw 2017; Davies and Renshaw 2019). Indeed, Lynch (2017, personal communication 2019Footnote5) has acknowledged that love, care and solidarity should encompass the way we ethically relate to each other as well as how we relate to all living creatures and the environment. In the Karawatha placestories described below, I show how place can become the object of love, care and solidarity, and how this ethical stance creates memorable placestories for children to inhabit and co-author.
With regard to the notion of enchantment, over many years at Pullenvale Environmental Education Centre, teaching staff have documented numerous emotional moments and incidents as children participated in the Karawatha Forest excursion. Such moments could centre on the sudden movement of wind through the trees, rain collecting in crystal-clear puddles on the track, the insistent call of birds or frogs, or imagining the presence of Indigenous children (like them) who walked this forest for millennia. When I began researching the Karawatha pedagogy with Dr Ron Tooth, I realised that the Vygotskian notion of perezhivanie could be deployed to analyse these moments (see Ramos and Renshaw, 2017; Renshaw and Tooth 2016). Perezhivanie is understood to be an emotional experience that is revisited and reflected upon over time. Vygotsky wrote sparingly about perezhivanie (Vygotsky 1934/1994), but he situated emotional experiences as central to the trajectory and direction of a person's life (Blunden 2016). What is crucial in perezhivanie is the sense that children make of these emotional experiences, and how they revisit and reflect on the experiences across time (Ng and Renshaw 2019). In this paper, I use the term enchantment as a particular type of perezhivanie. I have chosen specific examples of children's perezhivanya that convey the sense of delight and fascination that they experience in co-authoring placestories in/with Karawatha.
Karawatha placestories
Karawatha continues to be sacred country for local Aboriginal people and they continue to walk country and tell the stories embedded there. But in the last 200 years it has been used for timber-getting and farming, quarried for sandstone, and in the 1980s it was slated to become a housing estate on the edge of Brisbane to accommodate the growing population. At that time on the boundary of what is now Karawatha Forest reserve lived Bernice Volz, a local resident and self-educated naturalist.Footnote6 When Bernice moved in, she met her neighbour Trish, who had developed a deep knowledge of Karawatha. Trish took Bernice for walks through the forest. Bernice was overwhelmed by its beauty and uniqueness and began to catalogue the flora and fauna, much of it endangered and at risk. Bernice and Trish came to understand its complexity and fragility, they loved Karawatha. During heavy rain the lagoons filled and dozens of frog species began to call; fungi spread underground and across fallen logs; glossy black cockatoos could be heard (though they are much less common at the moment). Spending time in the many ecological niches of Karawatha strengthened Bernice's love for Karawatha and this led to action. She formed a committee with Trish and others and they began lobbying Logan and Brisbane councils and the State government to set aside the remnants of the once expansive forest system for future generations. The timing was right—a range of political and social forces intersected so that money was set aside from a Brisbane City Council bushland levy and from the State Government to buy back portions of the forest already in private ownership. Even the Gateway Motorway was redirected to become the western boundary of the Karawatha Forest Reserve of just less than 1000 hectares.
Bernice's activist placestory based on her love of Karawatha required persistent hard work such as building relationships with community members and stakeholders, and regularly engaging decision-makers about Karawatha. Today, Bernice provides on-going care to Karawatha, noting which invasive weeds have got to come out, and advocating for the removal of bitumen tracks mistakenly laid by contractors unaware that run-off from the bitumen would slowly poison the lagoons and their endangered frogs. It is Bernice's placestory of love and advocacy that forms the basis of the Karawatha program designed by Ron Tooth and his staff from PEEC (Renshaw and Tooth, 2018).
The children's experience of the Karawatha Forest includes recognition of Aboriginal on-going custodianship and the practice of silent still awareness, dadirri, gifted by Miriam-Rose Ungunmerr-Baumann to Ron and his colleagues at PEEC. They want children to relate to the more-than-human world in loving and caring ways and, like Bill Neidjie and Miriam-Rose, see themselves in solidarity with the living systems of Karawatha—as kin—rather than as separate entities. Through this pedagogy of love and enchantment, children are emotionally drawn into a new relationship with Karawatha—a new dance.
How have children made sense of the Karawatha excursion? At the conclusion of the excursion, children routinely write a short letter to Bernice where they give an account of what they learned. In analysing these accounts (see Tooth and Renshaw 2019), it seems that children experienced Karawatha as an active, relational and emotional partner. They had begun to see themselves as related to the forest, connected through emotions, thoughts and a shared future. These changes are summarised in four key themes: (i) Changing sense of kinship with Karawatha and becoming part of it (I feel as if I'm a part of the environment); (ii) Changing agentic view of "the more-than-human world" (Nature talks to me and it has so many stories to tell); (iii) Changing sense of solidarity with the more-than-human world (I learnt that a group of people can save a whole forest and it is truly stunning); (iv) Changing sense of sharing life with other living things (I think the most important discovery I made today was we're not the only living things that live on the earth.)
They sense a relationship to Karawatha based on the ontological and aesthetic stance expressed by Bill Neidjie, "I feel it with my body, with my blood. Feeling all these trees, all this country". There is also a changing understanding of hope, not as a vague abstract feeling, but as embodied practice—"I learned a group of people can save a forest".
David's placestory
For some children the Karawatha placestory becomes a turning point. David is such a case. He was described by his teacher as capable but very disengaged at school. But something changed at Karawatha, as illustrated in Fig. 4, that shows David's sketch of his love for the forest.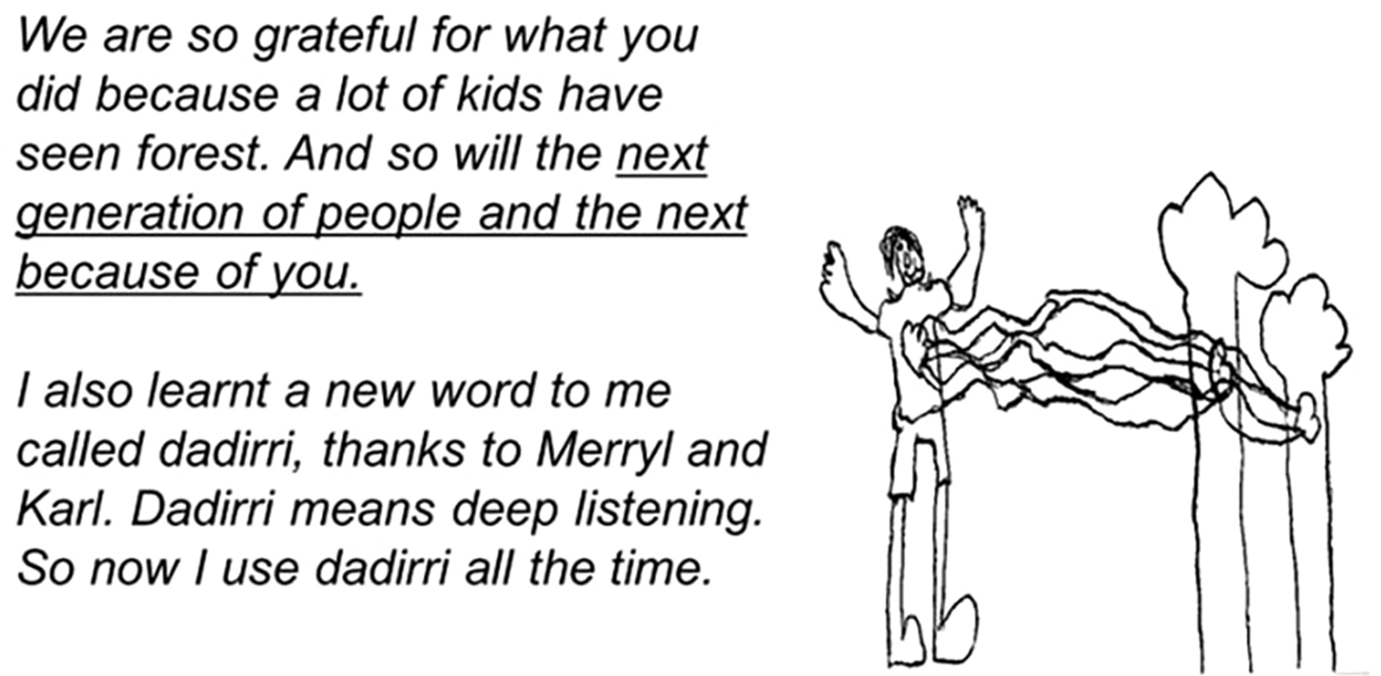 In the text associated with the sketch, David positions himself as a member of present and future generations, and he reports that he has adopted the practice of dadirri. He seems to have learned something significant about the world and himself at Karawatha. In talking to Merryl Simpson (PEEC teacher) he said,
Karawatha inspired me… like I'm going to try and work in Karawatha Forest to, like, inspire other children or work at a different kind of forest that's like sacred. (David, Year 5, 2013)
David's experience in/with Karawatha created a heightened appreciation of his relationship to the forest and the possibility for a shared future where he would "work at a different kind of forest that's like sacred".
Leon's placestory
Another example of enchantment or perezhivanie was documented in 2019 when Leon (Year 4) participated in a program focussed on insects, the BUGS program at PEEC. Figure 5 summarises the incident beginning with Harriet Mortlock's (PEEC teacher) observation of the native bee landing on Leon's arm, and culminating in Leon laughing about the bee "liking" him.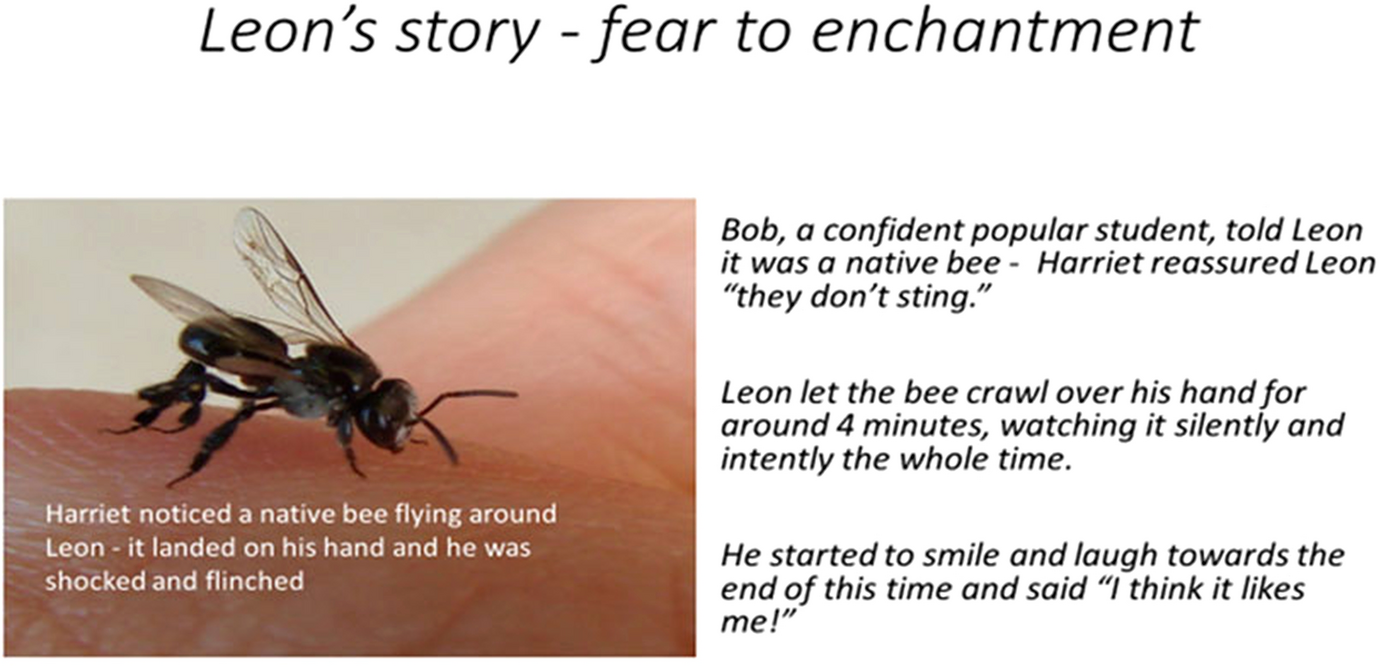 This moment was remembered vividly by Leon when I interviewed him a week later. It was the first thing he recalled about the PEEC excursion—"a bee landed on me". Initially he was a very reluctant participant in the BUGS program because he had been bitten by mosquitos just after arriving, and he did not want to go to the garden. But after the encounter with the native bee he became enthusiastic and wanted to linger in the bug garden and observe them. A week later he assured me that he was "80% not scared of insects" (see also Weldemariam 2020).
Reshma and Lucie's placestory
Reshma and Lucie (Year 4 students) presented their own placestory related to the BUGS program at PEEC. Theirs is a story of both enchantment, as captured in Lucie's face as she observes the "ghost spider" (Fig. 6), and activism arising from their experiences on the excursion. They are continuing this year (2020) to develop the Bug Club at their school and they remain committed EITs—entomologists in training. They were supported by Harriet Mortlock from PEEC in preparing the presentation, but Harriet attested to their authentic authorship of the presentation. Below is the text of their presentation.
Hi my name is Reshma and I am an Entomologist in Training. Hi my name is Lucie and I also am an Entomologist in Training with Reshma. We are also co-researchers on an ARC project with Peter and Ron and Harriet. Our journey as EITs and co-researchers led us to the idea of creating a Bug Garden and Club at our school. We are really excited to be here today to share our project with you.
Our journey as EITs began back at school when we started learning about insects and entomology. We started to feel intrigued, fascinated and our brains were growing with knowledge. Before I went to PEEC for the excursion, I was careless about bugs because I didn't know how important they are. Finally, it was time to visit PEEC where we did fieldwork as EIT's such as Reading a Tree, Leaf Detectives and Capture and Release. This fieldwork helped us to grow knowledge about how important bugs are and how to care for these beautiful little creatures. In Capture and Release I (Lucie) caught a ghost spider, and the second I looked at it I was so intrigued because I had never seen a spider in this way. I wouldn't have ever thought about the idea of catching a spider before I actually did at PEEC. I released the spider because, as we learnt, we always release the bug so it can keep living.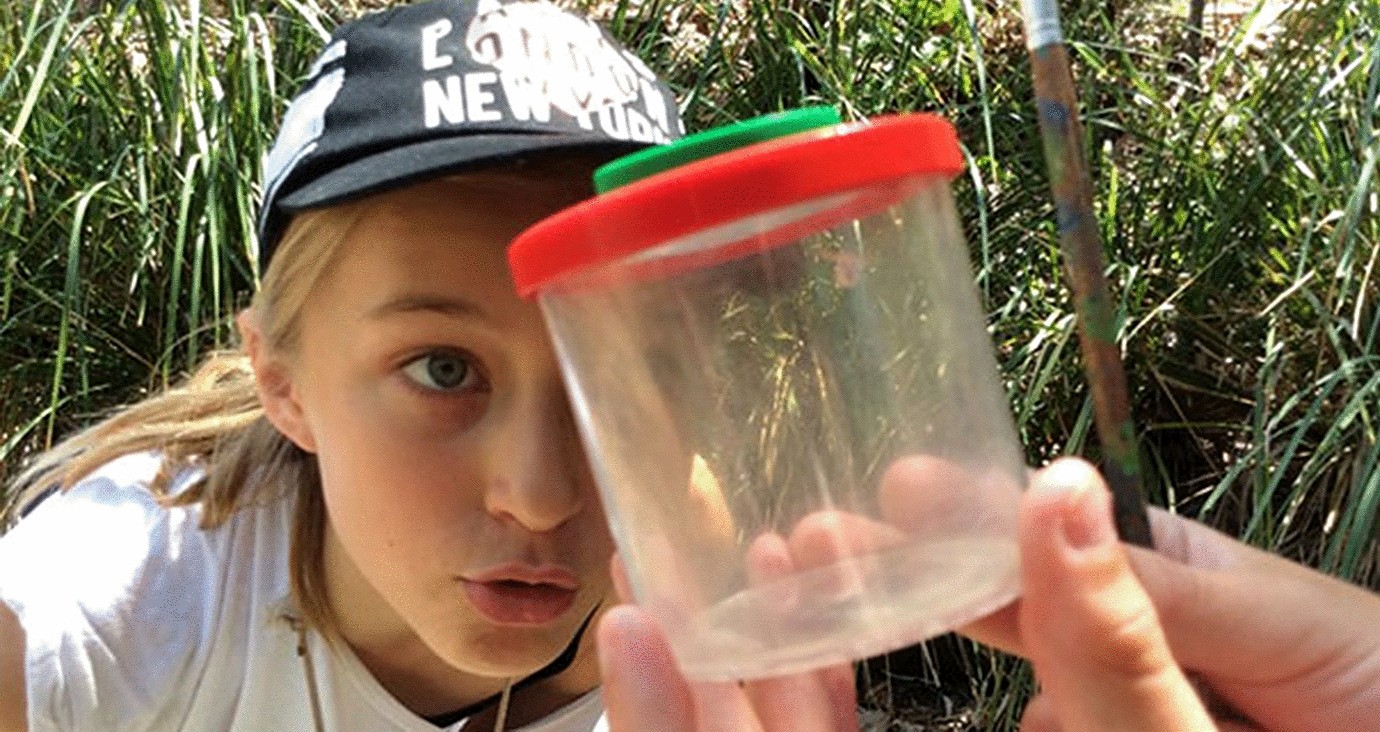 On the bus back to school from PEEC, we were thinking about all of these experiences and what we could do for the bugs. I (Reshma) felt like my brain was going to explode with information and ideas. A few days later, we came up with this brilliant idea of making a Bug Garden and a Bug Club so we could teach the younger students about how important bugs are to Mother Nature. Most people think about how bugs are bad but you have to look on the good side. We thought it was important for not just young students but all students to remember this. This plan for our Bug Club was based on the activities we did at PEEC, where our fascination about bugs became real. So it all started with an idea and now it has evolved to a real project.
We knew it was important to ask a teacher for help, to help us manage and organise the club. At our school, Chappie Niki has been building a veggie garden and runs the gardening club. The veggie garden needed a bit of a makeover and Chappie has started to recreate the patch where we will put more effort in and try to make it healthy again, not only for insects but for everyone. We asked Chappie for permission to use the garden for the club, and she was happy to support us. May we ask if Chappie Niki can stand up and give a wave to the audience.
We are aiming to start the Bug Club next year where there will be activities such as Reading a Tree, Capture and Release, Leaf Detectives and Plant observations. Some of these activities came from our journey as EITs at PEEC. When we are ready to start the club, we are going to ask our Principal for permission to present at school assembly to share our ideas and get children involved. The children can come for a test day to the club to see if they like it. We have already started planning the equipment we need and we are starting to collect second-hand jars as bug catchers. We are trying to find second hand resources as equipment for the club.
Where to from here? The bug club planning is all working out at the moment but we know there will be certain problems we have to try and fix. It is our responsibility to do this as we don't want to put the adults helping us under too much pressure. We also know if we don't take care of the plants and soil, the bugs will not come. We aim to increase the population of bugs in our local area. For the two years we are running our bug club, we want to try and find trustworthy and loyal students who we can hand the bug club over to when we leave for high school. We want to keep this plan going on and on because if more students decide to join then we can expand the club. When the students go to our club and learn information about bugs they will be prepared for PEEC when they go on their EIT journey too. I have changed my feelings towards bugs and I feel that this club will help others to decrease their fear of insects and increase their care for bugs like it did with me.
Knowledge leads to care that leads to love for bugs. We thank Peter for inviting us here today to this lecture, we think it's a big opportunity and a proud moment for us in our life. Now with all of this knowledge we have shared with you about EIT's and what they do, would you like to be an EIT too? Thank you!
Delegates at the Radford lecture were moved by Reshma and Lucie's placestory. They had not only presented so well, but also addressed issues of knowledge, care and activism, as well as the local politics at school and planning for the future. They are "the children of the Anthropocene" (Somerville 2017; Somerville and Powell 2019a, 2019b) and it is their future that is at stake when, as educators and researchers, we are considering how to redesign pedagogy and curriculum. A clear message from their presentation was the need to hear directly from children and youth more often at our conferences.
Part 3: Activism and education
Incorporating the voice of students in their own education is crucial, as Susan Groundwater-Smith and Nicole Mockler have advocated and researched for a number of years (Groundwater-Smith and Mockler 2016; Mockler and Groundwater-Smith 2015). In the field of environmental education, David Orr (1994) made the relevant point two decades ago that environmental crises reveal the problems of conventional education, problems centred on producing compliant students who can be effective operators in the global market economy premised on growth. For many decades, feminist scholars (McLeod et al. 1994; hooks 1994; Lather 2007) have critiqued conventional education as complicit in the reproduction of patriarchy and for instilling in students an acceptance of the status quo. To address the crises of the Anthropocene, students and teachers need to move beyond complacency towards an engaged and activist civic stance. But, as the recent climate strikes and marches have revealed, politicians and educators are quite conflicted about supporting students to be active and engaged citizens. The unexpected election result in May 2019 was explained by Prime Minister Morrison as due to "quiet Australians" (Tingle 2019, November 13) and this echoes his dream about children being allowed to enjoy their childhood in a "pristine environment" detached from the concern of adults. He called for more learning in schools and less activism, as did Resources Minister, Matt Canavan, who criticised students who participated in climate strikes as "not taking charge of your life' and merely "learning how to join the dole queue" (Sydney Morning Herald 2018, November 30). These messages about quiet citizens and business-as-usual learning at school stand in stark contrast to the current waves of student activism. High school students have led protests related to gun violence in the USA (Watts 2019), political reform in Chile (Bartlett 2019, October 19), protests about violence against women (Mayers and Lewis 2019, 28 October), as well as the climate strikes and protests. In fact, Greta Thunberg's climate campaign was initially inspired by the students from Florida, who walked out of class to protest gun violence, after the shooting at Marjory Stoneman Douglas High School in February 2018 (Marcovitz 2020).
Greta's climate strike (1 person in August 2018) and its spread worldwide (6 million in September 2019) has challenged educators and systems of education in unprecedented ways, and the responses have been largely disappointing. One school leader in Brisbane, when asked what the school's policy was regarding staff or students participating in the strike, said in a shocked tone—"what has this to do with us?" It clearly seemed absurd to him. Education Ministers (Liberal and Labor) across all the States opposed students participating in the climate protests in 2019, and principals typically warned teachers not to encourage their students to participate. But there are teachers who resist the messages "to be quiet". They find ways within the system to support students' activism. One of these teachers was completing a Masters unit with me in 2019 and responded to a discussion thread about whether or not to join a climate march with the following post.
When the first "student strike for change" occurred a few months back, I received a firm warning from my school leadership team that I was not to encourage students to leave school for this strike. I was caught between my responsibilities as an employee and my values. In the end, I quietly encouraged my students to become educated on the politics of the issue.… I also think we shouldn't dismiss the social and political awareness of our younger generation….Every form of advertising and social media is manipulating these kids, every day. By helping them to engage in these social and political agendas using their feet, we can help them to authentically engage in society …. A number of my students have said that after their first march, they were motivated to be more active in social change (some have changed their uni preferences, some are planning to travel and volunteer, some have gone more grass roots and hike their suburbs picking up rubbish from water ways). If that's not authentic learning experiences, I don't know what is! (Reproduced with permission).
Figure 7 presents another example of a teacher encouraging her students to participate in the climate march. She found a justification, a professional practice rationale, in the Australian curriculum to challenge the neutral-chair type of education that is compliance driven and oriented to maintaining the status quo. I don't know what conversation occurred at school but the title on her sign (My students are here today…) is testament to her determination to re-story the Australian Curriculum by appropriating it to pursue a more activist form pedagogy. Her students are experiencing rich learning with her, complex and multifaceted learning. No doubt her students had to convince their parents to be allowed to march—how did that go down? What influence are they having on their family? Activism is a site for difficult but generative dialogue about shared emotions and shared voice concerning issues that matter. They are learning what Haraway (2016) has called a way of thinking that is not hopeful about the future, but rather heartful in the present, experiencing the present as a thick, complex tangle of places and emotions in which cultivating response-abilities matters (Mitman 2019; Paulson 2019). This type of life-responsive pedagogy resonates with Berlant's (2016) notion of glitches being revealed at times of crisis, requiring a reassessment of the status quo and opening up possibilities for collective action. As Brennan (2017) has noted, local glitches offer sites for new educational praxis and collective action. The teacher with her students at the climate march (Fig. 7) shows how the glitch related to the climate crisis has open-up the possibility for a new form of praxis where she acts with her students to urge political action. With her students, she is re-storying the Australian curriculum to support a more activist and participatory form of learning and citizenship.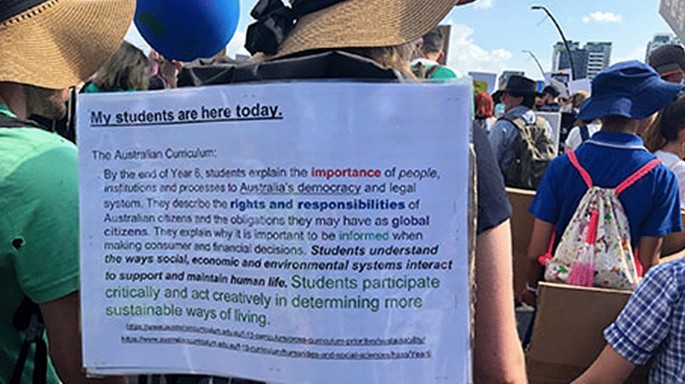 Conclusion
Drawing upon the placestories that I have analysed above and that Reshma and Lucie have shared, I want to conclude by proposing that for living justice in the Anthropocene we need different forms of activism. As educators we need to support young people to be politically involved by writing to Ministers, developing petitions and proposals for change, and actually protesting when necessary to expose complacency and challenge vested interests. This may require taking advantage of the loopholes and generative spaces for action that can be found within the curriculum even as it stands now. We need to support student initiatives such as the Bug club described by Reshma and Lucie, student-led action and voice to change local practices and plan for longer-term change. We need a pedagogy of enchantment that values moments of love and connection, where students can experience kinship—as Bill Neidjie has taught us. What if we shifted as a research community from a preoccupation with evidence-based practice, which looks backward to pedagogies that have produced the status quo, to enchantment-based practice looking forward to an Anthropocene based on kinship. We need to stay with the trouble guided by love care solidarity as embodied by Bernice Holz in her Karawatha placestory. We've got to 'love the local' as Bernice exemplified, and as experienced by Leon, David and Reshma and Lucie, knowing it will draw us in, entangle us and sustain us. Donna Haraway said recently (see Mitman 2019), "It's actually not all that hard to sustain joy if we let ourselves. Joy is not innocence; it is openness to caring. If we let pleasure in, if we let the light in, if we let it seep in, there's a kind of leaking of bling. Really, we live on an astonishing planet, and we may as well just let the astonishment in". In the same vein, a Year 7 student gifted Ron Tooth and I the following account of her experience of Karawatha. This young student has felt the "bling", the vibrancy of life, and I invite you to enjoy her vision of her insides as twirling with green leaves.
Well, this is a bit weird but … inside of my body used to be dark and focused on one thing at a time. When I used to write, like, for English and stuff it would just be so boring and I wouldn't use the same sort of expression and passion that I do now because – but now inside where it used to be all dark and nothing special about it, it's sort of got these green leaves and it's just twirling around and I think that if people keep on doing this that's what will happen to them. And so I think that I've grown more exciting and passionate and not so dull and blank that I was before …
May your own composting and thinking and feeling be so vibrant. What do we want? CLIMATE JUSTICE. When do we want it? NOW.
Notes
This research is supported by an ARC Discovery Grant (DP190102067), Renshaw Tooth & Kumpulainen, Digital Mediation of children's interaction with the more-than-human-world.
See also Alexandra Pirici and Raluca Voinea, "Manifesto for the Gynecene—Sketch for a New Geological Era", tranzit.ro, January 2015, http://ro.tranzit.org/file/MANIFESTO-for-the-Gynecene.pdf.
Meanjin is the Aboriginal name for the area where Brisbane CBD is now located.
Marion Sinclair wrote the words to the Kookaburra song in 1932. The publishing rights are held by Larrikin Music.
27th March 2019—Kathleen Lynch wrote to me, "I am deeply interested in extending my writing about love, care and solidarity to nature, and all living creatures, but I have not done so as yet. Your email reminds me of how important it is to widen my lens.".
Bernice was able to attend the Radford lecture and was acknowledged for her love and activism related to Karawatha. Bernice has not ever sought accolades and this was obvious on this occasion as she reluctantly accepted acknowledgement from the AARE delegates.
References
Abram, D. (1997). The spell of the sensuous: Perception and language in a more-than-human world. New York: Vintage Books.Google Scholar
Bakhtin, M. (1993). Toward a philosophy of the act (V. Liapunov & M. Holquist, Trans.). Austin, TX: University of Texas Press.
Bartlett, J. (2019, October 19). Chile protests: state of emergency declared in Santiago as violence escalates. The Guardian. Retrieved from https://www.theguardian.com/world/2019/oct/19/chile-protests-state-of-emergency-declared-in-santiago-as-violence-escalates.
Bell, M. (1994). Deep fecology: Mikhail Bakhtin and the call of nature. Capitalism Nature Socialism, 5(4), 65–84. https://doi.org/10.1080/10455759409358610.Article Google Scholar
Berlant, L. (2016). The commons: Infrastructures for troubling times. Environment and Planning D: Society and Space, 34(3), 393–419.Article Google Scholar
Blunden, A. (2016). Translating perezhivanie into English. Mind, Culture, and Activity., 23(4), 274–283.Article Google Scholar
Brennan, M. (2017). Struggles for teacher education in the age of the Anthropocene. Journal of Education, 69, 43–65.Google Scholar
Brett, J. (2020). The coal curse: Resources, climate and Australia's future. In Quarterly essay (Vol. 78). Carlton: Black Inc.
Charlson, F. (2019, September 17). The rise of 'eco-anxiety': Climate change affects our mental health, too. The Conversation. Retrieved from https://theconversation.com/the-rise-of-eco-anxiety-climate-change-affects-our-mental-health-too-123002
Crutzen, P., & Stoermer, E. (2000). The "Anthropocene". Global Change Newsletter, 41, 17–18.Google Scholar
Cutter-Mackenzie-Knowles, A., Malone, K., & Barratt Hacking, E. (2019). Research handbook on childhoodnature: Assemblages of childhood and nature research. Cham: Springer.Google Scholar
Davies, K., & Renshaw, P. (2019). Who's talking? (And what does it mean for 'us'?): Provocations for beyond Humanist dialogic pedagogies. In N. Mercer, R. Wegerif, & L. Major (Eds.), The Routledge international handbook of research on dialogic education (pp. 38–50). London: Routledge.Google Scholar
Demos, T. J. (2015). Anthropocene, Capitalocene, Gynocene: The many names of resistance Retrieved from https://www.fotomuseum.ch/en/explore/still-searching/articles/27015_anthropocene_capitalocene_gynocene_the_many_names_of_resistance.
Flanagan, R. (2019, February 4). Tasmania is burning. The climate disaster future has arrived while those in power laugh at us. The Guardian. Retrieved from https://www.theguardian.com/environment/2019/feb/05/tasmania-is-burning-the-climate-disaster-future-has-arrived-while-those-in-power-laugh-at-us.
Gammage, B. (2011). The biggest estate on Earth: How Aborigines made Australia. Sydney: Allen & Unwin.Google Scholar
Groundwater-Smith, S., & Mockler, N. (2016). From data source to co-researchers? Tracing the shift from "student voice" to student-teacher partnerships in Educational Action Research. Educational Action Research, 24(2), 159–176. https://doi.org/10.1080/09650792.2015.1053507.Article Google Scholar
Haraway, D. (2015). Anthropocene, Capitalocene, Plantationocene, Chthulucene: Making kin. Environmental Humanities, 6(1), 159–165. https://doi.org/10.1215/22011919-3615934.Article Google Scholar
Haraway, D. (2016). Staying with the trouble: Making kin in the Chthulucene. Durham: Duke University Press.Google Scholar
Haraway, D., Ishikawa, N., Gilbert, S. F., Olwig, K., Tsing, A. L., & Bubandt, N. (2016). Anthropologists are talking—about the Anthropocene. Ethnos, 81(3), 535–564. https://doi.org/10.1080/00141844.2015.1105838.Article Google Scholar
Head, L. (2016). Hope and grief in the Anthropocene: Reconceptualising human–nature relations. London: Routledge.Google Scholar
hooks, b. (1994). Teaching to transgress: Education as the practice of freedom. New York: Routledge.
Hornborg, A. (2017). Dithering while the planet burns: Anthropologists' approaches to the Anthropocene. Reviews in Anthropology, 46(2–3), 61–77. https://doi.org/10.1080/00938157.2017.1343023.Article Google Scholar
Keane, D. (2020, January 13). Bushfire-smoke-plume-expected-to-lap-the-globe-nasa-says. Australian Broadcasting Corporation. Retrieved from https://www.abc.net.au/news/2020-01-13/bushfire-smoke-plume-expected-to-lap-the-globe-nasa-says/11863298.
Lather, P. (2007). Getting lost: Feminist efforts toward a double(d) science. Albany: State University of New York Press.Google Scholar
Lynch, K. (2007). Love labour as a distinct and non-commodifiable form of care labour. The Sociological Review, 54(3), 550–570.Article Google Scholar
Lynch, K. (2009). Affective equality: Who cares? Development, 52(3), 410–415.Article Google Scholar
Lynch, K. (2017). Affective equality: Why love, care and solidarity are political matters. Paper presented at 8th Biennial International Conference of UNESCO Child and Family Research Centre, NUIG, University College Dublin, 8–9 June.
Lynch, K., & Baker, J. (2009). Conclusion. In K. Lynch, J. Baker, & M. Lyons (Eds.), Love care and injustice (pp. 216–236). New York, NY: Palgrave Macmillan.Google Scholar
Marcovitz, H. (2020). Greta Thunberg: Climate activist. San Diego CA: Referencepoint Press.Google Scholar
Massey, D. (2005). For space. London: Sage.Google Scholar
Mayers, L., & Lewis, M. (2019, October 28). Swansea High School teacher's comments on rape investigated by NSW Government. Australian Broadcasting Corporation. Retrieved from https://www.abc.net.au/news/2019-10-28/swansea-high-school-teachers-rape-comments-investigated/11644850.
McLeod, J., Yates, L., & Halasa, K. (1994). Voice, difference and feminist pedagogy. Curriculum Studies, 2(2), 189–202.Article Google Scholar
Mitman, G. (2019, June 18). Reflections on the plantationocene: A conversation with Donna Haraway & Anna Tsing. Edge Effects Magazine. Retrieved from https://edgeeffects.net/haraway-tsing-plantationocene/.
Mockler, N., & Groundwater-Smith, S. (2015). Engaging with student voice in research, education and community: Beyond legitimation and guardianship. Dordrecht: Springer.Google Scholar
Moore, J. (2017). The Capitalocene, Part I: On the nature and origins of our ecological crisis. The Journal of Peasant Studies, 44(3), 594–630. https://doi.org/10.1080/03066150.2016.1235036.Article Google Scholar
Moore, J. (2018). The Capitalocene Part II: Accumulation by appropriation and the centrality of unpaid work/energy. The Journal of Peasant Studies, 45(2), 237–279. https://doi.org/10.1080/03066150.2016.1272587.Article Google Scholar
Murphy, K. (2019, September 25). Morrison responds to Greta Thunberg by warning children against 'needless' climate anxiety. The Guardian. Retrieved from https://www.theguardian.com/australia-news/2019/sep/25/morrison-responds-to-greta-thunberg-speech-by-warning-children-against-needless-climate-anxiety.
Neidjie, B., Davis, S., & Fox, A. (1985). Australia's Kakadu man: Bill Neidjie. Queanbeyan, NSW: Mybrood.Google Scholar
Ng, C., & Renshaw, P. (2019). An Indigenous Australian student's perezhivanie in reading and the evolvement of reader identities over three years. Learning, Culture and Social Interaction. https://doi.org/10.1016/j.lcsi.2019.04.006.Article Google Scholar
Paulson, S. (2019, December 6). Making kin: An interview with Donna Haraway. Los Angeles Review of Books. Retrieved from https://lareviewofbooks.org/article/making-kin-an-interview-with-donna-haraway/.
Pascoe, B. (2018). Dark emu: Aboriginal Australia and the birth of agriculture. Broome, WA: Magabala Books.Google Scholar
Pyne, S. (2015, March 5). The fire age. Retrieved from https://aeon.co/essays/how-humans-made-fire-and-fire-made-us-human.
Ramos, M. V., & Renshaw, P. (2017). The contours of perezhivanie: Visualising children's emotional experiences in place. Cultural-Historical Psychology, 13(1), 105–128. https://doi.org/10.17759/chp.2017130110.Article Google Scholar
Renshaw, P. (2017). Positionality in researching the dialogic self: A commentary on the possibilities for dialogic theory and pedagogy. Learning, Culture and Social Interaction, 20, 90–94.Article Google Scholar
Renshaw, P., & Tooth, R. (2016). Perezhivanie mediated through narrative place-responsive pedagogy. In A. Surian (Ed.), Open spaces for interactions and learning diversities (pp. 13–23). Rotterdam: Sense Publishers.Google Scholar
Renshaw, P., & Tooth, R. (2018). Diverse pedagogies of place: Educating students in and for local and global environments. Abingdon: Routledge.Google Scholar
Rittel, H., & Webber, M. (1973). Dilemmas in a general theory of planning. Policy Science, 4, 155–169. https://doi.org/10.1007/BF01405730.Article Google Scholar
Somerville, M. (2010). A place pedagogy for "global contemporaneity." Educational Philosophy and Theory, 42(3), 326–344.Article Google Scholar
Somerville, M. (2017). Thinking critically with children of the Anthropocene: (Un)Learning the subject in qualitative and postqualitative inquiry. International Review of Qualitative Research, 10(4), 395–410.Article Google Scholar
Somerville, M. (2018). Education research for the Anthropocene: the (micro)politics of researcher becoming (2017 Radford Lecture). Australian Educational Researcher, 45, 553–567.Article Google Scholar
Somerville, M., & Powell, J. (2019a). Researching with children of the Anthropocene: A new paradigm? In V. Reyes, J. Charteris, A. Nye, & S. Mavropoulou (Eds.), Educational research in the age of the Anthropocene (pp. 14–35). Hershey PA: IGI Global.Google Scholar
Somerville, M., & Powell, S. (2019b). Thinking posthuman with mud: And children of the Anthropocene. Educational Philosophy and Theory, 51(8), 829–840.Article Google Scholar
Steffen, W., Grinevald, J., Crutzen, P., & McNeil, J. (2011). The Anthropocene: Conceptual and historical perspectives. Philosophical Transactions of the Royal Society A, 369, 842–867.Article Google Scholar
Sydney Morning Herald. (2018, November 30). Climate change protest will lead to dole queue, minister tells students. Sydney Morning Herald. Retrieved from https://www.smh.com.au/politics/federal/climate-change-protest-will-lead-to-dole-queue-minister-tells-students-20181130-p50jbt.html.
Tingle, L. (2019, November 13). Quiet Australians evaluate Scott Morrison's Government six months after election victory. Australian Broadcasting Corporation. Retrieved from https://www.abc.net.au/news/2019-11-14/quiet-australians-judge-scott-morrison-government-six-months-on/11700088.
Tooth, R., & Renshaw, P. (2019). Children becoming emotionally attuned to "nature" through diverse place-responsive pedagogies. In A. Cutter-Mackenzie, K. Malone, & E. B. Hacking (Eds.), Research handbook on childhoodnature. Cham: Springer.Google Scholar
Tuan, Y. (1979). Space and place: Humanistic perspective. In S. Gale & G. Olsson (Eds.), Philosophy in geography (pp. 387–427). Dordrecht: Reidel.Google Scholar
Ungunmerr-Baumann, M. R. (1988). Dadirri. Compass Theology Review, 22, 9–11.Google Scholar
Ungunmerr-Baumann, M. R. (2002). What does Dadirri mean? Retrieved from http://www.dadirri.org.au/dadirri-meaning/.
Vygotsky L.S. (1934/1994). The problem of the environment. In R. van der Veer (Ed.), The Vygotsky reader (pp. 338—354). Oxford: Blackwell.
Watts, J. (2019, March 11). Greta Thunberg, schoolgirl climate change warrior: 'Some people can let things go. I can't'. The Guardian. Retrieved from https://www.theguardian.com/world/2019/mar/11/greta-thunberg-schoolgirl-climate-change-warrior-some-people-can-let-things-go-i-cant.
Weldemariam, K. (2020). Becoming-with bees': Generating affect and response-abilities with the dying bees in early childhood education. Discourse: Studies in the Cultural Politics of Education, 41(3), 391–406. https://doi.org/10.1080/01596306.2019.1607402.Article Google Scholar
Funding
The research reported in this paper was partly supported by Australian Research Council (LP100100761), Renshaw & Tooth (2010–2012), Storythread pedagogy: Transforming teachers' and students' knowledge and values regarding environmental sustainability. Australian Research Council (DP190102067), Renshaw Tooth & Kumpulainen (2019–2021), Digital mediation of children's interaction with the more-than-human-world.
Affiliations
School of Education, The University of Queensland, St Lucia, QLD, Australia Peter D. Renshaw
Cite this article
Renshaw, P.D. Feeling for the Anthropocene: Placestories of living justice. Aust. Educ. Res. 48, 1–21 (2021). https://doi.org/10.1007/s13384-021-00433-z